5 Fabulous Fireplace Face-Lifts That Won't Burn Through Your Wallet
5 Fabulous Fireplace Face-Lifts That Won't Burn Through Your Wallet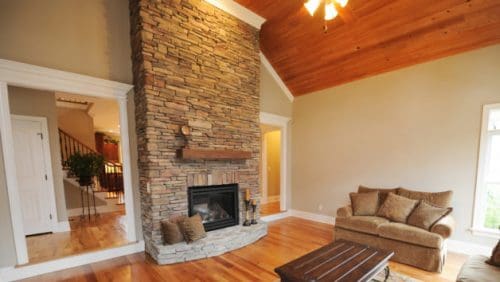 Whether or not there's a crackling fire within, a fireplace is an eye-catching feature in a home—or at least, it can be. If yours appears a little drab and you're pining for a new look, you're in luck! A fireplace makeover is far easier (and cheaper) to pull off than you might think. To spark some ideas, here are five fireplace face-lifts that you can easily DIY in one weekend; they prove it really is possible to overhaul a brick behemoth without burning through your bank account.
1. Try tile
Bored of brick? Glass tile can turn your fireplace into a true gem.
Erin Colburn of home design blog Magenta and Lime and her husband, Matt, pulled off this transformation themselves in just a few hours. Best of all, the total tab came to just $106 for tile, grout, and two-sided sticky paper on which to place the tiles (a true timesaver). Check out before-and-after pics below.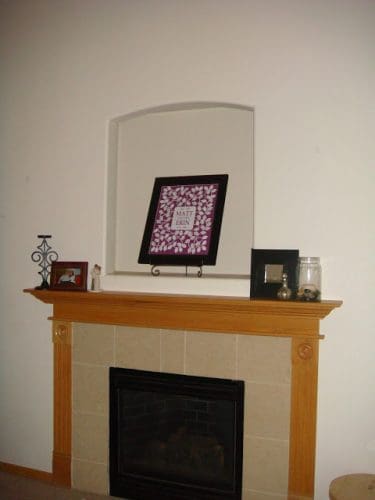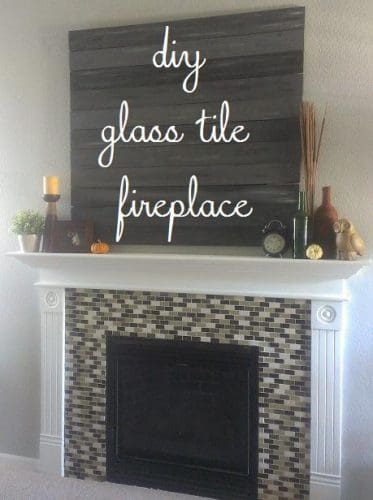 2. Paint it over
As Amy Boyle acknowledges, there are some people who view painting over brick as the ultimate sacrilege, but the 11 Magnolia Lane blogger wanted her fireplace to better reflect her style. So Boyle forged ahead and painted her basic builder bricks white—and then for a bit more interest, she added gray chalk paint. The subtle contrast really lends the fireplace more depth and character—all for the cost of a couple of cans of paint.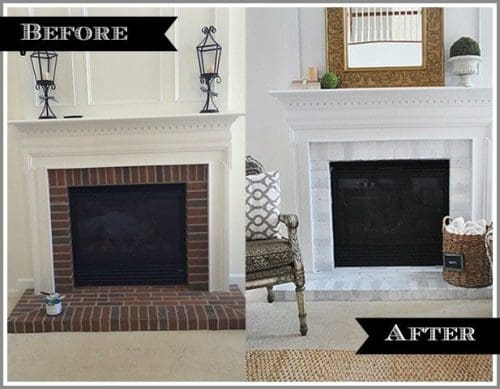 3. Whitewash your way to a new look
Chances are high you haven't thought about the term "whitewashing" since reading "The Adventures of Tom Sawyer," but applying that same technique to your fireplace stone will have you doing a double take in the best possible way.
Anneke McConnell outlines this easy face-lift on her blog, Coastal Collective Co. All it involves is chalk paint and sponges, to transfer the mixture to the stone without drips.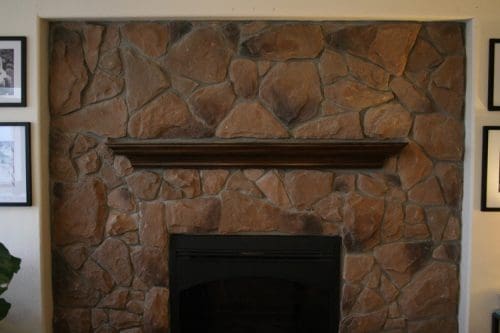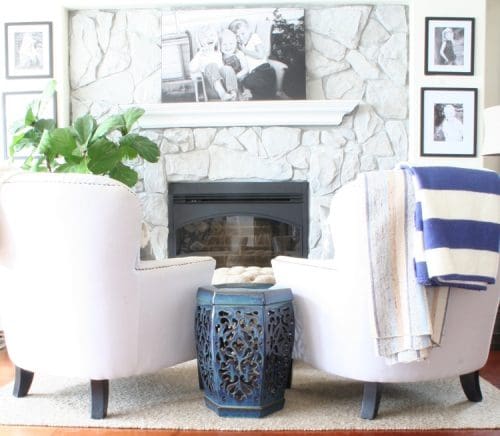 4. Stack some stone
This fireplace went from meh to marvelous with the addition of floor-to-ceiling stone and—the clincher—a floating mantel. It really draws the eye upward and gives the whole room a lot more character. Lightweight faux stone is available at home improvement centers for a fraction of the cost of the real thing.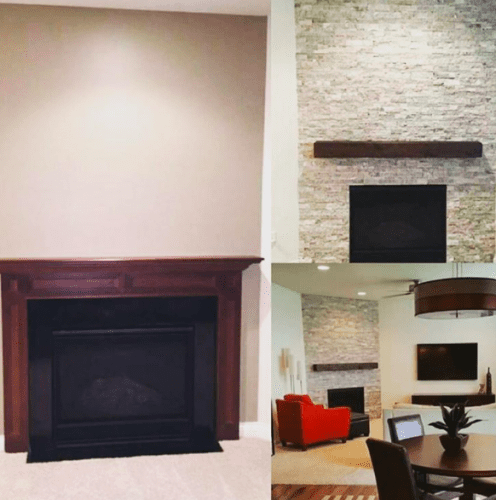 Bold yet simple stone
Cutting back the hearth and creating a uniform floor-to-ceiling stone facade really clean up the look of this fireplace. "Spacious," "warm," and "rustic" are adjectives that come to mind once this amenity was streamlined by the team at Urbane Design Studios.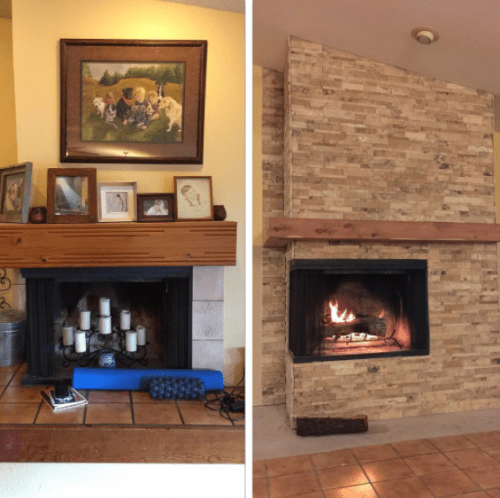 5. Go modern with porcelain
Interior renovation and design specialist Alice T. Chan says this fireplace makeover is among her all-time favorites.
"What's with the two brick frames on top?" she asks. Who knows, but we're sure glad they're gone. These homeowners framed out a new facade to achieve a contemporary look and overlaid it with the dark gray porcelain tile. The solid walnut slab hearth and floating mantel complete the metamorphosis.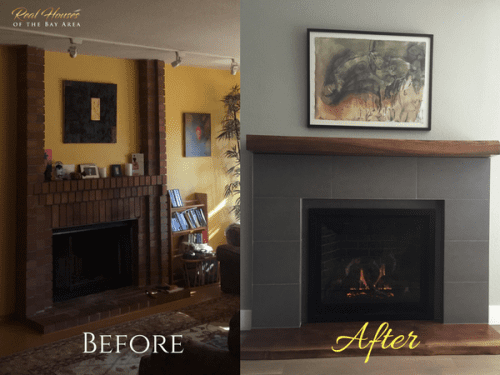 Article found: https://goo.gl/smA5L8