Basements Less Common in New Builds!
Basements Less Common in New Builds
The share of new single-family homes built on slab is growing whereas basement foundations are not as common, according to a new analysis by the National Association of Home Builders on Survey of Construction data.
Fifty-seven percent of all new single-family homes started last year were built on slab foundations compared to 27 percent that had full/partial basement foundations, 14 percent with a crawl space, and the remaining 2 percent that had raised supports, earthen, or other foundation types.
"The foundation types for residential construction are closely related to climate conditions, especially the frost line," NAHB reports on its Eye on Housing blog. "Homes in colder areas, where building codes normally require foundations built below frost depth, are predominately constructed with full or partial basements."
Home owners are the most likely to find full or partial basements in the West North Central region of the U.S., followed by New England or the Middle Atlantic. On the other hand, homes in the West South Central and Pacific divisions are the least likely to have full and partial basements. Areas that have warmer climates or clay soil (which is expansive) – like in many Southern parts of the U.S. – slab foundations are more common and cheaper to construct than full or partial basements or crawl spaces, NAHB notes.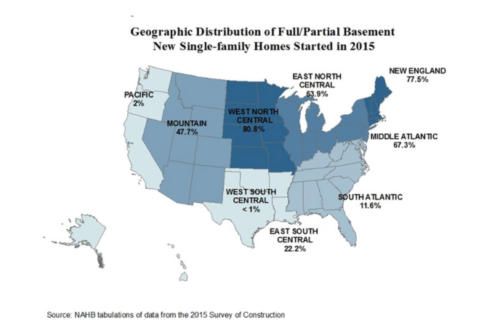 By: DAILY REAL ESTATE NEWS