Best Buy Cities: Where To Invest In Housing In 2017
Best Buy Cities: Where To Invest In Housing In 2017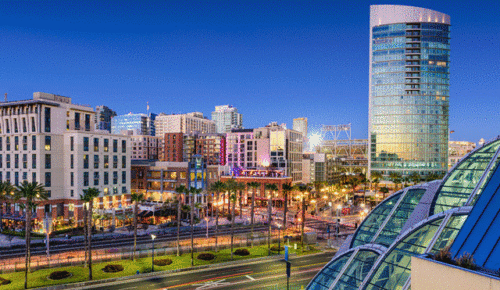 When it comes to balancing risk and reward in real estate, cities in the Southern half of the country look to be in the sweet spot now, as well as one surprising Northeastern metropolis, where lack of land to build turns out to be a plus. Whether your looking to put down roots with a family home or to rent out your purchase for yield, these cities offer two things anyone making a home investment should be after: affordability and growth.
To find out where you can get the most bang for your housing buck this year, Forbes teamed up with Local Market Monitor, a North Carolina-based company that tracks more than 300 housing markets. For each market CEO Ingo Wizner analyzed housing indicators as well as broader growth trends. He came up with 20 markets where you can park your money with some confidence in 2017—and beyond.
Traders looking for quick cash should look elsewhere. "If you are planning on making an investment, either by buying a home or by buying a rental property, these are really good markets," says Winzer. "These are markets where you can make an investment, you are probably going to get a good return and you are not taking an extraordinary risk." 
Dallas dominates: The home of Exxon Mobil and the Dallas Cowboys claims the no. 1 ranking this year. Dallas has an average home price of $233,000. That's up 3.9% from a year ago and underpriced by 3% compared to the city's historic average. Local Market Monitor forecasts prices will increase 31% by 2020 thanks in part to 3.9% job growth in the past year and 6.2% population growth in the last three.
Florida holds on: Four cities in the Sunshine State made the list, the most of any state, and all are in the top 10. There's Jacksonville at no. 2, Orlando at no. 3, West Palm Beach at no. 5 and Tampa at no. 7. Winzer says that Florida's continued strength is the biggest surprise of the list. (Last year seven Florida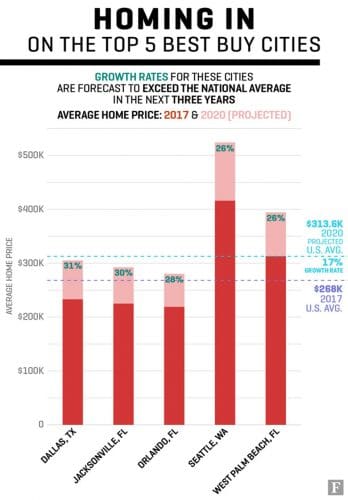 cities made the cut.)  Florida was the poster child for financial crisis devastation. As recently as 2015 seven markets in the state were undervalued by more than 20%. But builder constraint and job growth has boosted the value of existing homes.
Texas on top: The Lone Star State not only holds the top spot on our 2017 list but the second most spots overall, with Forth Worth at no. 9 and San Antonio at 20. The recession and housing crisis did not hit Texas quite as hard as the rest of the country, meaning it came back quicker and has been adding jobs longer and faster than the rest of the country. Opportunity and affordable housing led more people to move from other states to Texas in 2015 than any other state besides Florida. Austin, which made our 2016 ranking, would easily make a top 30 list, but is a bit overpriced compared to a year ago.
Boston bucks coastal crush: Perennially absent from this list are the major California markets San Francisco and Los Angeles, as well as East Coast megacities New York and Washington D.C. Scarcity has made these places too expensive to be top investments.
Article found: https://goo.gl/zyoKPP