'We Made Every Mistake': Chip and Joanna Gaines Bare Their Pre-'Fixer Upper' Past
'We Made Every Mistake': Chip and Joanna Gaines Bare Their Pre-'Fixer Upper' Past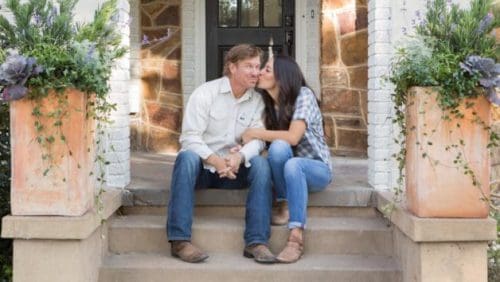 Chip and Joanna Gaines may be pretty darned cute, but they're far from perfect—and the latest episode of "Fixer Upper" offers proof. The couple boldly take a trip back in time to a home they lived in more than 10 years ago, giving viewers a jaw-dropping peek inside.
We're not going to lie—it's a little horrifying. Among their renovation slip-ups? They painted over wallpaper, left the popcorn ceilings intact, spent most of their bathroom renovation budget on double shower heads, and more.
"We made every mistake in the book," Joanna admits.
Since then, of course, they've learned from those mistakes—and are showing off how far they've come by flipping a new place. They select a cute little Tudor-style cottage that Chip names the "Giraffe House," because its startling stone exterior reminds him of the spots on a giraffe.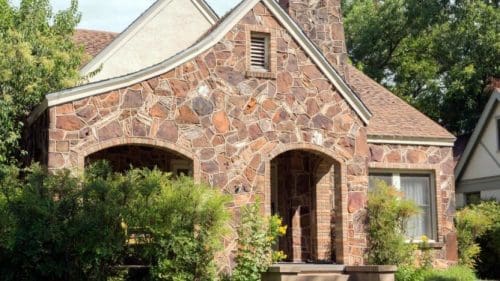 The three-bedroom, two-bath, 1,800-square-foot house was built in 1937, and is now priced at $79,900. Chip does an admirable job of bargaining and gets it for $65,000, and they estimate $85,000 in renovation costs. Naturally, nothing goes exactly as planned.
Here's how it all pans out, and the lessons they learn this time around (because there's always room for improvement, right?).
Lesson No. 1: Save the shiplap
Chip and Joanna suspect that there might be reusable shiplap underneath the sagging, popcorn-covered drywall on the ceiling, and they're right! The living room shiplap has been eaten by termites, so they have to replace that with drywall, but the ceilings in the rest of the downstairs area can be sanded, stained, and reused.
Lesson No. 2: Don't overlook cast-offs in the garage
What appeared to be a pile of wood in the garage turns out to be a stack of doors that had been used in the house over the years. After they refinish and replace the glass on a few of them, they're able to use them on an indoor cabinet and at the front of the house. They even reclaim some of the doorknobs and use them as design elements.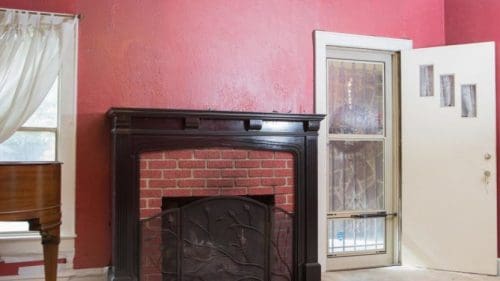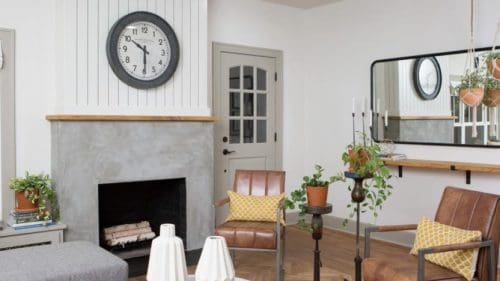 Lesson No. 3: If it ain't broke, don't fix it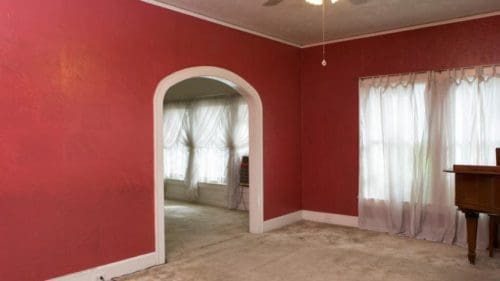 There's a large archway separating the living and dining rooms, which Chip and Joanna decide to leave in place. All they have to do is paint the walls and trim.
Lesson No. 4: Leave no stone unturned
This may be our favorite reclamation feature of the entire house: Once they remove the stone from the facade and from other parts of the property, they have a big pile of flat rocks. Instead of letting them "walk away," as Joanna puts it, she uses them to line one master bathroom wall, to stunning effect.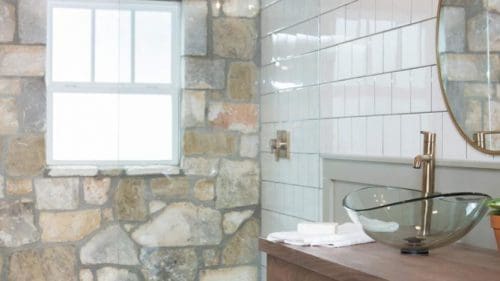 Lesson No. 5: Put a new slant on things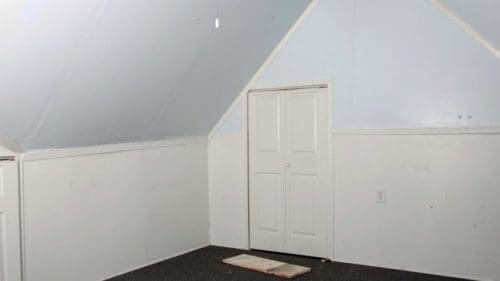 Chip and Joanna find a dormer room with a sharply slanted ceiling off the master bedroom which the previous owners had been using for storage. Joanna makes a quaint office out of the space by adding built-in desks and a window seat.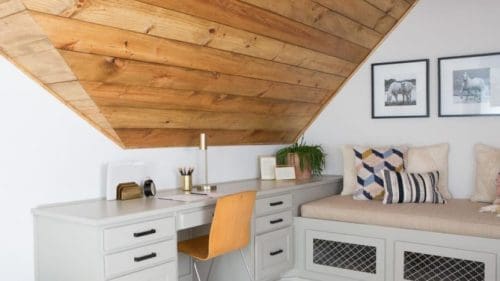 Lesson No. 6: Make the most of what you have
Chip and Joanna have some chunky, reclaimed beams left over from other projects, so they use some inside the house to give it a vintage look to match the exterior of the house. They also use some wood flooring left over from their Magnolia bakery renovation in the small living room. These materials cost them nothing.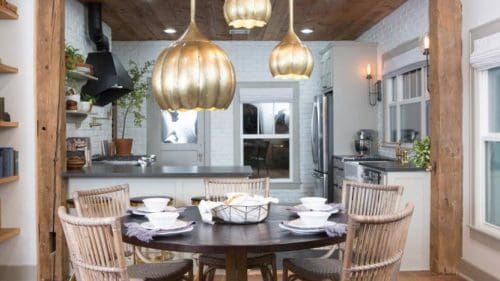 Lesson No. 7: Be willing to spend money where it's necessary
The roof on the Giraffe House is a problem. Once Chip gets up there, he finds that it's been patched and resurfaced three times, which is all the code allows. He has to completely replace the roof, which costs $12,000, but there is no other viable option. The silver lining? While he's up there, he adds a dormer window, which looks great.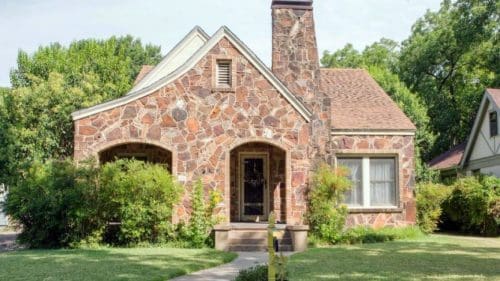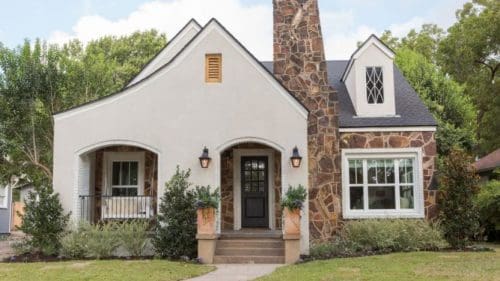 How'd it go?
Their total investment in the house comes to $150,475, and they're going to list it for $189,900—which means a profit of $39,425, or more than 26% return on their investment. As Chip rightly points out, that's a "pretty penny."  Now, who said a giraffe can't change its spots?
Article found: https://goo.gl/iXlVvo
Article by: